Best BBQ Spots Toms River NJ

Let's be real: There's nothing quite like cozying up to a platter that's piled high with hickory-smoked, BBQ sauce-doused delights.
Whether you're a radical for ribs, a brisket buff, or any other type of barbecued grub, you've got to have a local hangout that dishes out all your favorites, plus plenty of those classic sides.
Luckily, we're here to quench that roaring appetite with this guide to the Best BBQ Spots near Toms River, NJ. From the moment you set foot into these local joints, you'll be prepared to pit their mouthwatering creations against the skills of the most celebrated BBQ savants.
The Hickory Hog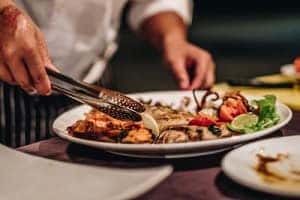 With a name like The Hickory Hog, you can trust that this homegrown dive is capable of churning out some seriously amazing pit-smoked pig. And, since 2007, this BBQ hotspot has cultivated their ribs with precise adjustments and attention-to-detail that resulted in an award-winning recipe.
To make all that magic happen, these ribs spend a cool seven to twelve hours inside their smokehouse sauna. The result? A picture-perfect rib covered in a crispy, savory outer bark that pulls back to reveal the succulent, fall-off-the-bone interior. Is your mouth watering yet?
Try This: With the kind of mental image we just painted, you have no choice but to order up a helping of these tried-and-true BBQ ribs once you take a seat inside this restaurant.
No matter if you prefer wet or dry ribs, you'll find plenty of choices on their menu, such as their Memphis Dry-Rubbed, Mesquite Smoked St. Louis, or their Hickory-Smoked Baby Back.
Pair all that chow with some Creamy Cole Slaw and Collard Greens, and you've got yourself a meal worth bragging about.
Don't forget to visit their Facebook to see some delicious photos of their BBQ!
Shore Points BBQ
Looking to take a walk on the wild side with your barbecue? Well, at Shore Points BBQ, you'll gobble up your favorite smoked dishes with just a dash of Jersey Shore flare.
By infusing select entrees with locally sourced seafood and testing out some exotic barbecue sauce flavors, you'll try something new every time you pull up a chair inside this cozy feed house.
Plus, feel free to order up a plate of scrumptious sustenance during breakfast, lunch, and dinner. That way, you can squeeze some barbecue into any meal of the day.
Try This: Start off your day right with their Chipotle Pork Benedict, which tops their famous Pulled Pork with Peppers, Onions, Avocado, and Chipotle Hollandaise.
After you've finished sunbathing on the beach, take a bite of their tender Crab Cake Sandwich, or stick with the barbecue marathon by ordering their Pulled Brisket Sandwich that features their six-hour braised brisket covered in Southwest BBQ sauce, Cheddar Jack Cheese, and fried Onion Petals.
Visit their Facebook page to browse the raving reviews from fellow BBQ fanatics!
Woodchuck's BBQ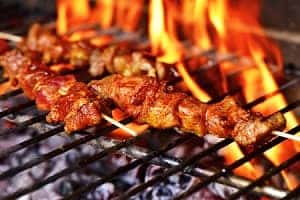 At Woodchuck's BBQ, you'll dig your hands into pit-roasted treasures that are crafted using this team's experience of over sixty years. To up the ante on their menu of crave-able delights, this joint serves up some classic American hot dogs with some not-so-traditional toppings.
Try This: Want proof that this place has the chops to quench your appetite? Try the Smokehouse Dog, which crowns these foot-long dogs in Smoked Cheddar, Beef Brisket, BBQ sauce, and Caramelized Onions.
To keep up the pace with your barbecue-devouring relay, get a taste of a variety of their best goodies with the Baby Backs & Pulled Meats.
This meal comes with a choice of Beef Brisket, Pulled Pork, or Pulled Chicken and Cornbread. Choose two addition accompaniments like Mac N' Cheese and Baked Beans to round out this full-throttle feast.
Take a peek at their Facebook profile for upcoming specials!