At Toms River VW, we want to help you keep your car performing at its best, and we believe providing quality routine maintenance services and genuine original equipment manufacturer (OEM) parts is key.
Our services go above and beyond selling new and used cars! Learn more about how we help our Toms River, Brick, and Freehold area customers every day at our on-site service center.
Our Service Center Technicians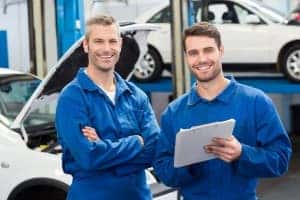 The secret sauce to our service center is our highly skilled technicians. They've been factory-trained and -certified and receive regular trainings to keep them up-to-date on the current best practices for automotive care and maintenance.
When you stop by our service center for routine maintenance or automotive repairs, our technicians will explore all aspects of your vehicle to provide an expert diagnosis and a thorough and efficient fix, so you can get back on the road with confidence.
Volkswagen Service Xpress
While we always strive to provide quick and convenient service, we understand that you're on a tight schedule and don't have time to wait sometimes. In those cases, we invite you to take advantage of our Volkswagen Service Xpress option.
Here, you'll receive the same quality care we always aim to deliver, but there's no appointment necessary. Simply pull up and let us get to work. With this service, we provide a full menu of routine maintenance items, including:
Oil and filter changes
Battery diagnostic check and replacement
Tire replacements, rotations, and balances
Brake pad, rotor, shoe, drum, and fluid replacements
Spark plug replacements
We also happily offer a complimentary multi-point inspection with each service to ensure that we've done a thorough job.
Need more extensive service or repairs? Schedule an appointment online ahead of time and reserve your time slot!
Volkswagen Care Program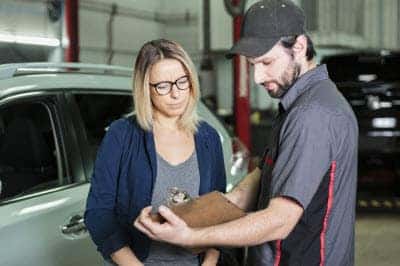 As part of our dedication to making crucial routine maintenance as accessible as possible, we offer a Volkswagen Care Program that allows you to pre-pay for the services you'll need throughout the year, so you know they're covered.
We offer four different programs, so you can customize your protection for your budget and your specific automotive service needs. Be sure to ask about adding these programs at the time of purchase or lease to secure your coverage.
Check Out our Service Center
While you're here on our site, be sure to explore our many service offers. They change monthly, so check back often! We also invite you to visit our tire center and parts department, where you can get all the genuine, quality parts you need to complete your automotive repair puzzle.
At our service center, we're dedicated to keeping our customers' cars in great shape during their commutes around the Toms River, Brick, and Freehold areas. So, if you're due for routine maintenance, use our convenient online schedule or contact us to make your appointment at Toms River VW today!