Vehicle Trade-In Checklist

If you're shopping for a new ride, trading in the car you're driving now is a great idea. It takes the vehicle off your hands and you can put its value towards the purchase of a new one.
To help drivers in Toms River, Brick, and Freehold, New Jersey, get prepared and get the best value, Toms River VW has put together this handy vehicle trade-in checklist.
What To Do Before Trading in Your Car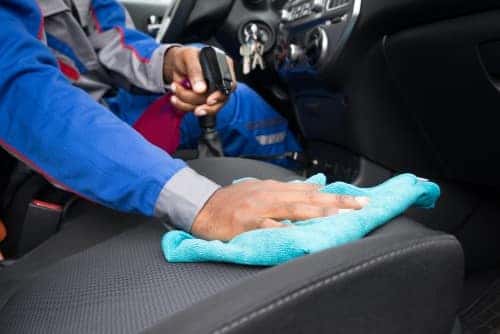 While you can certainly take your car to get it appraised any time, prepping your vehicle for an appraisal is the best way to make sure you get the most for it. To make sure it looks good, it runs smoothly, and that you've got everything ready, just follow these simple steps:
Get an estimate – First, do some research to see how much your car could be worth. Most value your trade-in tools only require some basic information, such as the make, the model, the year, the mileage, and the VIN.
Check with a few sources – It's always a good idea to find out what the fair market value is. To do that, try getting an estimate from a few different sources. There are plenty of free, reliable ones online, including Autotrader® and Kelley Blue Book®.
Make your car look good as new – Next, you'll want to get your car in top shape. The final appraisal is based on more than just its age and mileage. The condition the car is in makes a big difference. Get the car washed, have it detailed, and get any minor wear and tear issues fixed.
Schedule maintenance – To take things a step further, get your vehicle up to date on all its routine maintenance too. This will help it run smoothly. All the fluids will be topped off, there will be enough air in the tires, and you'll have gotten new basic parts, like brake pads.
Have your car inspected – On top of getting things up to date, you'll want to have the car inspected. This is a good way of covering your bases and making sure that any issues are repaired before it's appraised.
Get a vehicle history report – A vehicle history report is a detailed list of the vehicle's complete service history. Bringing one to your appraisal lets you be up front and honest.
Get your paperwork together – Make sure you also get everything organized beforehand. That includes the deed to your car, the insurance information, and the registration.
Schedule the appraisal – Finally, once you've gotten all your papers in order and have taken extra special care of your used car, you can schedule a time to get it appraised.
Learn More About Trading in Your Car
Trading in your vehicle is a great way for drivers in Toms River, Brick, and Freehold, NJ, to save on a new car.
Visit Toms River VW or contact us, if you have any questions about our vehicle trade-in checklist. Let us know when you're ready to get your car appraised.
---