Best Sushi near Toms River NJ


Being close to the Jersey shore evokes images of diners in and around Toms River. However, this is also an excellent area for fresh, refined seafood. There's no seafood quite like perfectly prepared sushi. If you're looking for the best sushi near Toms River, NJ, visit one of these terrific restaurants.
Ikko Steakhouse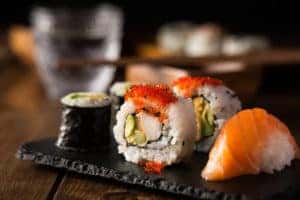 Since 2005, Ikko Steakhouse has offered diners an entertaining and exciting dining experience. This Hibachi steak house and sushi bar offers something for everyone. Plus, it's BYOB, so you can enjoy your grilled meat and hand-rolled fish with your favorite drinks.
You can start your meal off with traditional appetizers like an ika salad, edamame, or gyoza. There's also all sorts of sashimi and nigiri sushi. They also offer a variety of rolls with everything from spicy salmon to shrimp tempura. You'll also find specialty rolls like their Dancing Eel Roll, Tuna Lover Roll, or Volcano Roll with deep fried squid, avocado, and spicy mayo.
For an exciting show and something fresh off the grille, you can get everything from chicken and beef to scallops and lobster tail fired up on the hibachi grill.
To get a look at the hibachi grills in action, follow Ikko Steakhouse on Facebook. You can also get a tray of sushi to go for your next party or event.
Uminoya
If you're a fan of all sorts of Japanese cuisine, you'll love going to Uminoya. It's both a sushi bar and a hibachi grill, so you can enjoy authentic food that's hand-rolled or fired up. You can always start things off with traditional appetizers, too, like rock shrimp, seaweed salad, or miso soup.
When you're craving some sushi, you can get a classic California roll, spicy yellowtail, or a Philadelphia roll with smoked salmon, cream cheese, and avocado. There are dozens of rolls to choose from, including special rolls like the signature Uminoya roll. It features lobster tempura cucumber topped with eel and avocado. After enjoying your favorite sushi, you can get your favorite meat fired up on the grill by their hibachi chefs.
Follow Uminoya on Facebook to see their specials get a look at their menu
XINA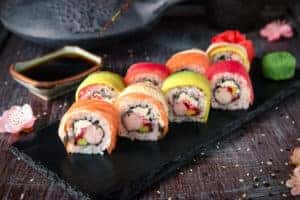 Just a few feet from the water, you'll find XINA. It features the freshest fish and some authentic entrees. You can start your meal off with some classic nigiri or sashimi then try one of their signature rolls.
If you're craving something fiery, there's the fried Spice Is Right Roll with spicy tuna, yellowtail salmon, pickled jalapenos, avocado, eel sauce, and wasabi. There's also the Everything Bagel Roll with smoked salmon, cream cheese, crab, scallions, and everything bagel seasoning.
In addition to all the fresh fish, they offer fried rice and noodles from around the world, including lo mein and pad Thai. Plus, their entrees run from savory seafood like fried diver sea scallops to favorites from the farm like General Tso's chicken and Peking duck.
For a look at their mouthwatering menu, follow XINA on Facebook.
Satisfy Your Sushi Craving
For the best sushi near Toms River, NJ, visit one of these delicious destinations. From traditional treats to creative signature rolls, they all offer stellar sushi and excellent entrees.