The River Lady Cruise

Take a relaxing and scenic ride down the Toms River and the Barnegat Bay on the historic paddle wheel riverboat called The River Lady Cruise. The cruise is a great place to host family celebrations, get-togethers with friends, or corporate events.
Read below to see what each cruise has to offer. If you have any questions, please don't hesitate to contact them online or like them on social media!
Historical Cruises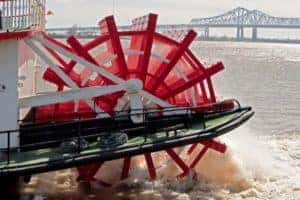 River Lady Cruises offers several different cruises that are open to the public Tuesday through Saturday every week during the summer. There are several different private cruises available to try, all offering something different. The scenic route passes by lovely waterfront homes, stunning properties, docks, yacht clubs–and, if you're lucky, you may just pass a sailboat race.
The Historical Lunch Cruise includes a wonderful mid-day meal to make your experience one to remember. Throughout the cruise the Captain will be present to provide full historical commentary on the Toms River while passing by some beautiful historical sights. The extended lunch cruise offers a delicious lunch as the boat cruises through the Toms River and Barnegat Bay.
Sightseeing Cruises
The Historical Sightseeing Cruise takes you along the Toms River and will provide a fascinating narration of its history. If you would like to follow along with narration during the trip there's a "Points of Interests" map you can buy.
Dinner and a Cruise
The Early Dinner Cruise offers a fabulous dinner and beautiful sunsets to see. If you want a cruise to relax after a long day, check out the Captain's Dinner Cruise. The Dinner Dance Cruise is a wonderful way to celebrate any special occasion with dinner and dancing.
Menu and Cocktail Options

The menu has great options to choose from, but each guest must choose one main entrée in advance. Some options on the menu are Chicken Francese, Chicken Marsala, Filet Salmon, and many more! There's a kid's menu as well.
If you would like a refreshing frozen drink such as Mango Margarita, Pine Colada, Strawberry or Banana Daiquiri with or without alcohol for a cruise, they are available.
Book a Cruise!
To learn more give them a visit in-person or follow them on Facebook today!