Community Spotlight: Shut Up and Eat

Everyone has their own definition of comfort food. From a big plate of bacon and eggs to a mouthwatering burger, everybody has something that they crave. When that craving hits, follow your appetite over to Shut Up and Eat.
Ocean County Comfort Food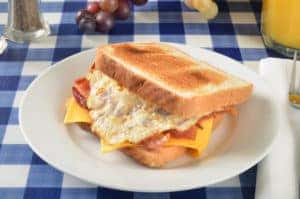 Going out to eat is great, but it's even better when you can feel as comfortable as you do at home. Shut Up and Eat gives you the best of both worlds. With servers dressed in their most comfortable pajamas, every meal will remind you of the big breakfasts Mom used to make. They even welcome you to come in your finest PJs, too.
Start your day with a massive breakfast sandwich or a hearty breakfast bowl. It's easy to fuel up for the day with a mountain of layered grits, cheese, avocados, and your choice of meat. Feel free to treat your sweet tooth, too, with decadent pancakes or French toast. You can even build your own omelette.
If you're stopping by in the afternoon, you can enjoy an unforgettable lunch with a big burger. There are dozens to choose from like the Joisey Shore burger with pork roll and cheese or the Yo Adrian with pepperoni and mozzarella. You can also build your own or have the best of both meals with their Breakfast Burger.
With so many flavors and so much variety, it's no wonder they've been voted Best Breakfast in Ocean County by the Ashbury Press Readers' Poll.
Treat Your Guests
While they love to see you come back again and again, you can also bring Shut Up and Eat's legendary food to your next family function. They cater big events like birthday parties, graduation, or corporate luncheons. That way, you can give your guests some award-winning food from a beloved local business.
Better Bring Your Appetite
Whether it's something sweet or savory, you know you're about to eat good at Shut Up and Eat. They'll make sure your craving is satisfied. Follow them on Facebook to see their specials and pictures of their delicious meals.