Signs You Need An Oil Change
Most of the time, if your vehicle needs something from you, it will find some way or another to communicate that need.  A lot of vehicles use the lights on the dash to do so, so when you're driving in Brick, Toms River, or Freehold you may see something light up.  However, when it comes to something like an oil change, you're not always going to see the light.
Here at Toms River VW, we know the signs you should be looking for to know if your car needs a fresh gulp of oil to keep it running well, and we are going to share them with you in this handy guide.  Schedule a service appointment today.
Your Car Needs An Oil Change When…
The first sign that you may need an oil change is when the little light that looks like an oil can or a maintenance-required message illuminates your dash.  However, this is simply an indication that you've reached the manufacturer's guideline for when you need fresh oil.
Checking your oil is something you should be doing on a regular basis, and when it is clean, it should be a translucent amber color.  You'll notice that older oil takes on an almost-black appearance.
The oil in your car keeps the engine lubricated so you're not getting metal on metal, but when it starts to get old, that lubrication is no longer there and the engine will start to show some signs of it, like knocking or rumbling.
What Happens During an Oil Change
When you bring your vehicle in for an oil change, your service professionals will do the following:
Elevate your car or park it over a pit in the floor.
At this point, an oil pan will be placed under the car and the oil plug will be pulled.
They will then allow all the old oil to drain from your car, while they prepare for the new oil process.
Next, they will pull out the dirty oil filter and replace it with a brand new one.
Once the filter is properly installed, they will then begin to fill your vehicle with oil.
Once the oil is in, the technician will then turn the engine on and run the vehicle until the oil light goes out (if it had been on in the first place).
Once the light is off, they will check the dipstick to make sure the oil is at max capacity and add oil accordingly.
Our Oil Change Services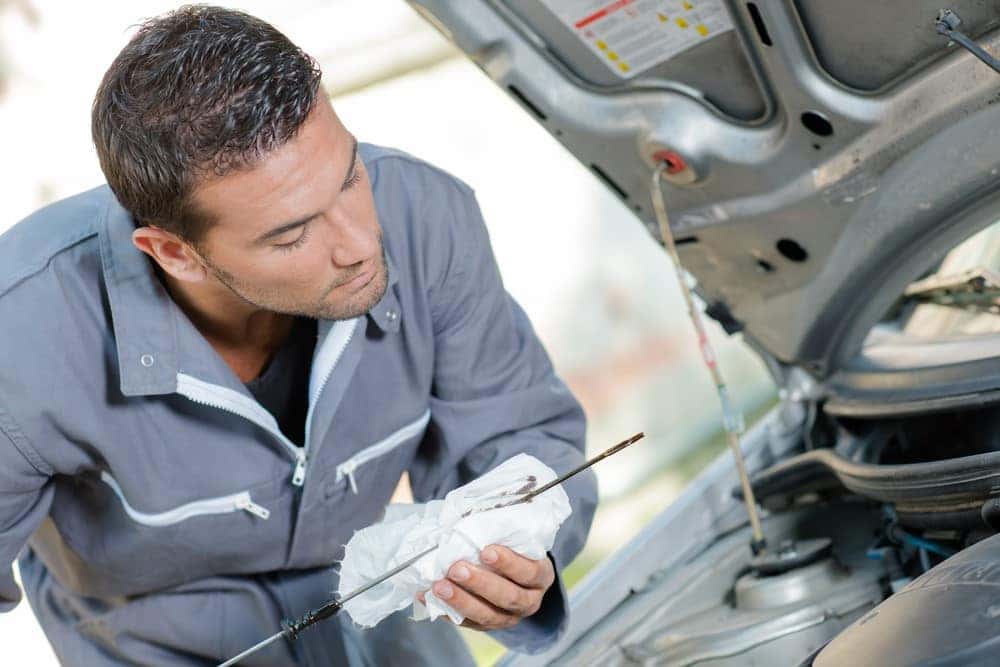 When you're noticing any of the signs we've mentioned, that means it is time for you to let us get our hands on your car.  Within our service center, our highly skilled and professionally trained technicians have been certified to work on your car, performing both routine and emergency maintenance services.
An oil change can be either scheduled through the phone or our online system, or, if you're in a hurry, try our Service Xpress menu.  With a wide range of services offered without an appointment, we'll have you in and out in a hurry.  We know you have a busy schedule and routine maintenance shouldn't have to be an interruption.
Your Full Service Dealership
No matter what your need in the Brick, Toms River, or Freehold areas, we offer a full range of services, from new car purchases to used vehicles, to a wide array of service and maintenance options.  At Toms River VW, we can help you keep your car running the way it should and when you need a new one, we can help with that, too.