Volkswagen Golf Dashboard Lights
Even reliable cars like the Volkswagen Golf need maintenance to stay in great shape. Dashboard lights are a useful tool that let you know when your car needs a trip to the service center. So, what are some of the most important lights and what do they mean?
To help drivers in Toms River, Brick, and Freehold know what your VW Golf is trying to tell you, Toms River Volkswagen put together this Volkswagen Golf dashboard lights guide.  Call now for more information.
Green Lights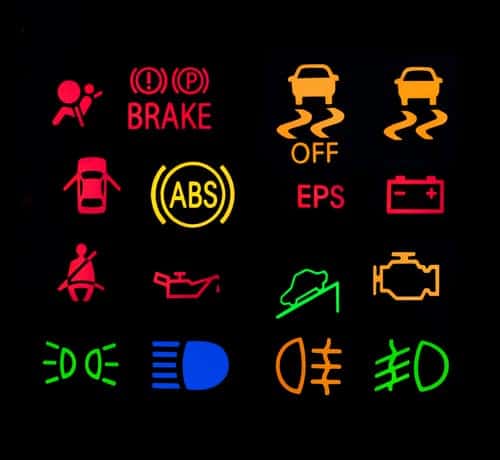 Green lights in your Volkswagen Golf let you know when a system or feature has been activated. Some examples you might see frequently are:
Daytime Running Lights – The green letters DRL simply mean that your daytime running lights are on.
Shift Lock – This light looks like a boot inside a circle. It means that you need to put your foot on the brake pedal before you can shift out of park.
Yellow Lights
Yellow lights alert you of an issue with your car before it becomes an emergency. Many of these are maintenance reminders. You should schedule a service appointment as soon as possible to avoid the same issues coming back as red lights.
| | |
| --- | --- |
| | Anti-Lock Braking System – The letters ABS on your dashboard represent your anti-lock braking system. This means there's been a malfunction. You can still drive on your regular brakes, but you should get these looked at right away. |
| | Low Oil – When you're low on oil, your car reminds you that it's time for an oil change with a light that looks like an old-fashioned oil can on top of some waves. |
| | Tire Pressure Monitoring – When one of the tires in your VW Golf is low on air, you'll see a dashboard light that looks like an exclamation mark that's underlined and inside a set of parentheses. |
| | Check Engine – The Check Engine light looks like a side view of your engine. It can turn on for something as innocent as a loose gas cap or something more serious like a malfunction with your emission system or catalytic converter. |
Red Lights
Red dashboard lights are serious warnings. Whenever you see a red light on the dashboard of your Volkswagen Golf you should pull over, stop the car safely, and call for a tow truck.
| | |
| --- | --- |
| | Brake System – A dashboard light that looks like a red exclamation mark inside a circle means that your main brake system has malfunctioned. It is not safe to continue driving with faulty brakes.  Have your Volkswagen Golf taken to our service center as soon as possible. |
| | Low Oil Pressure – If you were not able to get an oil change after seeing the yellow low oil light, you'll eventually see a similar symbol in red. It also looks like an oil can and means that there is no longer any oil pressure. |
| | Coolant Level/Temperature High – If the engine of your Volkswagen Golf starts overheating, you'll see a light that looks like a thermometer on some waves. This means that either your engine is low on coolant or the coolant is too hot. Either way, you'll need to turn your engine off and let it cool down before adding more coolant. |
| | Battery/Alternator – A light that looks like your battery means that there's a problem with your electrical system. This is usually a sign of a dead battery or bad alternator. |
VW Service Center
If you notice any of these dashboard lights in your vehicle, schedule service online with Toms River VW. Our service center features a team of highly trained technicians who can help drivers in Toms River, Brick, and Freehold keep their car in great shape. To learn more about these Volkswagen Golf dashboard lights and more, contact us or visit our dealership.