Is the Volkswagen Tiguan Fuel Efficient?

Do you run lots of errands throughout the week? Do you enjoy weekend road trips? The 2021 Volkswagen Tiguan is safe, spacious, and fun to drive on all your roads. Is the VW Tiguan fuel efficient, though? Our team at Toms River VW compiled this informative piece to present this SUV's fuel efficiency.
We took a closer look at the VW Tiguan fuel economy, specs, and performance, as well as ways you can optimize your vehicle's fuel economy. Drivers in Toms River, Brick, and Freehold, NJ, should get ready. You're about to find out what this SUV is capable of.
VW Tiguan Fuel Economy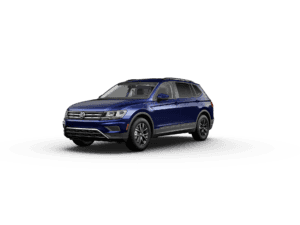 Do you want to spend less time at the pump and more time on the open road? The 2021 Volkswagen Tiguan can boast an EPA-estimated 23 city/29 highway MPG.[i] Thanks to its efficient engine, your road trips to the shore can be smooth sailing without a pitstop at Wawa.
Do you want to feel confident driving on icy, snowy, wet, or uneven roads?  Front-wheel drive (FWD) comes standard, but 4MOTION® all-wheel drive (AWD) with Active Control is also available. This makes your SUV more adaptable in all weather, while still offering good fuel economy. With AWD, the VW Tiguan can offer an EPA-estimated 21 city/27 highway MPG.[ii]
If you choose the FWD variant, your SUV offers a 15.9-gallon fuel tank capacity. On the other hand, the AWD option boasts a slightly larger 16.4-gallon fuel tank. Both of these figures are impressive and excellent for those long highway treks, beach cruises, or late-night rides.
VW Tiguan Specs
Some specifications other than fuel economy make your 2021 VW Tiguan more efficient. For example, this SUV features a sleek, aerodynamic design. Aerodynamics refers to the air around your car. As you drive, your vehicle has to push the air out of the way.
The design of the VW Tiguan serves two purposes. First, it gives your SUV a nice, sporty look. It also helps reduce drag. With its rounded edges and streamlined accents, this SUV can cut through the air with little resistance and use the least amount of gas possible.
Size Is on Your Side
The size of your VW Tiguan also matters when it comes to being fuel efficient. This SUV combines style and capability with its low, wide, and bold stance.
Exterior Dimensions

Length

185.1 inches

Width

72.4 inches

Height

66.3 inches

Ground Clearance

7.9 inches
The exterior dimensions of the VW Tiguan allow this SUV to be nimble. With such an agile body, your VW is highly maneuverable in both city and suburban settings. It also benefits your fuel efficiency by being compact and aerodynamic. The ample ground clearance also improves your airflow and helps your SUV deal with bumpy roads and trails.
Curb Weight
The weight of your VW Tiguan can also make it more fuel efficient. Overall, this SUV weighs in at 3,735 pounds. Typically, the bigger and heavier the vehicle, the more energy and power it needs to run. However, this light curb weight allows your set of wheels to generate less power when carrying passengers and cargo.
VW Tiguan Performance


So, what kind of drive can you expect from this efficient SUV? The VW Tiguan equips a 2.0L TSI® turbocharged engine under the hood. It boasts 184 horsepower and 221 lb-ft of torque. This SUV's turbocharged heart are often more fuel efficient than a V6 or V8 engine, for example. The amount of power an engine creates also determines fuel economy.
Whether you're interested in FWD or AWD, it works with an 8-speed automatic transmission. While it delivers precise gear shifting, you'll also be able to take control of your drive. Just flip on Sport mode for a more exciting performance, or you can use Tiptronic® to shift manually without a clutch.
4MOTION® AWD gives you dependable traction and stability. It also comes with Active Control. This makes your SUV more versatile with selectable driving modes, like Snow, On-Road, Off-Road, and Off-Road Custom.
Five Ways You Can Optimize Your VW Tiguan Fuel Economy
When it comes to your fuel efficiency, taking care of your SUV by scheduling routine maintenance and using gentle driving behavior will allow you to optimize its fuel economy. Below are five ways you can maximize your vehicle's efficiency:
Drive smoothly: When driving on any road, braking harshly or putting the pedal to the metal can waste your fuel. For optimized efficiency, anticipate traffic movement and use brakes sparingly.
Pay attention to your tires: Check your SUV's tire pressure often to make sure they are properly inflated. Improper inflation can affect vehicle mileage and cause uneven wear and tear.
Take time for a tune-up: If you suspect some aspect of your VW Tiguan may need some extra TLC, schedule a routine maintenance for a tune-up, especially if your vehicle didn't pass the emissions test.
Reduce your vehicle's weight: Removing weight from your vehicle can easily boost the fuel economy of your VW Tiguan. So, remove those items from your trunk for decreased energy consumption.
Watch your speed: Your driving speed is very important to fuel efficiency. To increase your fuel economy, try driving at a constant speed. Less acceleration allows your vehicle to burn less gas.
Whether you turn off your engine instead of letting it idle or choose the right motor oil for your vehicle, the extra love and care you give your VW Tiguan ultimately leads to the better health and efficiency of your SUV.
Test Drive the Volkswagen Tiguan 
To learn more about how efficient the Volkswagen Tiguan can be, visit Toms River VW. It offers good fuel economy and a capable performance to drivers in Toms River, Brick, and Freehold, New Jersey. Contact us to learn more or to schedule your test drive.
---
[i]. 23 city/29 highway MPG (2021 VW Tiguan 2.0L, 8-speed automatic transmission). EPA estimates. Your mileage will vary and depends on several factors, including your driving habits and vehicle condition.
[ii]. Based on EPA estimates. See www.fueleconomy.gov for details. Your mileage will vary and depends on several factors, including your driving habits and vehicle condition.