Volkswagen Tiguan Maintenance Schedule

The Volkswagen Tiguan is an excellent SUV that can provide you and your family with years of memories. To get the most out of your VW Tiguan, it's important to stay on top of its recommended maintenance schedule–an outline of the various services your VW Tiguan will need throughout the years.
As your VW dealer serving drivers from Toms River, Brick, and Freehold, NJ, we here at Toms River VW want to keep your vehicle on the road for years to come. That's why we've put together this Volkswagen Tiguan maintenance schedule.
Follow along to make sure your car is up to date on all its recommended maintenance needs. Schedule a service appointment or give us a call today.
10,000 Miles/1 Year
As your odometer rolls over to 10,000 miles, it's time to bring your Volkswagen Tiguan in for its first maintenance check. This typically includes some routine service procedures, such as:
Oil change­­—Our technicians will give your SUV an oil change pretty much every time it comes through our service center. Oil is essential to keeping your engine in good condition.
Brake pad inspection—Brake pads wear down over time. The more you use them, the faster you'll need to replace them. Since it varies from driver to driver, technicians will look to see if your brake pads should be replaced.
Safety inspection—Your airbags, seatbelts, and driver-assisting features will all be inspected to make sure you and your passengers will be safe.
Rotate your tires—Much like your brake pads, your tire tread wears over time. Eventually you'll have to replace them, but to make your tires last longer, technicians will rotate them. This allows the tread to wear evenly.
Check light bulbs—From your headlights to your interior dome lights, technicians will check all your SUV's light bulbs. It's a smart and easy way to stay safe. You'll be able to see clearly at night and help other drivers by showing them when you're turning and slowing down.
Whether you're driving a brand-new VW Tiguan or a used one that's hitting 100,000 miles, technicians will look at these parts and systems every time you bring your SUV in.
Once they've completed the basics, you can hit the road with confidence, knowing that your Volkswagen Tiguan is in tip-top shape.
20,000 Miles/2 Years
Volkswagen recommends that drivers bring their Volkswagen Tiguan in for maintenance every 10,000 miles or so. That's why you'll want to schedule your next maintenance appointment when your VW Tiguan reaches 20,000 miles.
At 20,000 miles or two years with your VW Tiguan, the recommended maintenance involves a complete inspection of the SUV's brake system. This involves examining brake pads, brake discs, and brake-fluid levels to ensure your VW Tiguan can slow down and brake safely.
In addition to the brake system check-up, the 20,000-mile service includes everything, from the 10,000-mile service, as well as the following:
Battery inspection—Your car battery isn't much different from the battery in your TV remote. That's why it'll need to be replaced eventually. Technicians will check your battery life and look for any signs of leaks, cracks, or corrosion.
Tire inspection—Tire tread wears down over time. While rotating your tires helps them last longer, eventually you'll need a new set. A technician will look at your tread to see if they should be replaced. They'll also check for any signs of holes, tearing, and bulging along the sidewall. If everything looks good, they'll check the tire pressure on all four wheels and the spare.
Coolant replacement—It's easy for heat to build up under the hood. All the machinery that makes up your engine can generate a lot of it. Coolant prevents your engine from overheating. Getting a fresh supply keeps your parts cool.
30,000 Miles/3 Years
After 30,000 miles on the road, your Volkswagen Tiguan maintenance includes everything from the 20,000-mile check-up.
Additionally, service technicians will replace your oil, replace the engine oil filter, and conduct a thorough brake pad inspection.
40,000 Miles/4 Years
At this service interval, the VW Tiguan undergoes everything from previous maintenance appointments. Service techs will also do the following:
Check and replace spark plugs—Spark plugs are a key part of starting your car. Replacing them helps you fire up the engine quickly.
Inspect the electrical system—After replacing the spark plugs and checking the battery again, technicians will look over all the lines, wires, and other parts of your electrical system.
Inspect for signs of body corrosion—All vehicles experience wear and tear. By checking the interior, exterior, and under the hood, your SUV will be able to look and drive like new again.
Check the exhaust system—The ignition sequence starts with the spark plugs and ends with pumping air out the exhaust. Looking over this system rounds this inspection out and helps your engine fire on all cylinders.
Once technicians have replaced your spark plugs, refilled your fluids, and completed their inspection, your Volkswagen Tiguan will drive as smoothly as it did the first time you got behind the wheel.
50,000 Miles/5 Years
After five years or 50,000 miles on the road, the VW Tiguan recommended maintenance includes all the above services.
At 50,000 miles, special attention is paid to the vehicle's brake pads, battery, and engine. At this interval, technicians will inspect the VW Tiguan carefully to make sure that it's in the best possible condition before leaving the service center.
Subsequent maintenance appointments will follow the same format.
60,000 Miles/6 Years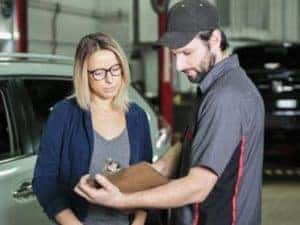 Now that you've crossed the half-century mark, you can set your sights on putting six digits on the odometer. To help you hit the big 100k and keep going, your 60,000-mile maintenance appointment will include all the work your SUV has had in the past, plus, you'll get a new air filter element.
Having good air quality is important for both your personal comfort and your engine. The spark plugs need to draw air in to fire properly. Replacing the air filter keeps that air clean and helps the ignition sequence run smoothly.
You May Also Like:
Bring Your SUV to Our VW Service Center
The service technicians at Toms River VW are committed to keeping your Volkswagen Tiguan on the road for as long as possible.
We know how passionate drivers from Toms River, Brick, and Freehold are about their vehicles, and we're just as passionate about providing expert customer service.
When it's time for your VW Tiguan to undergo maintenance, schedule an appointment with our service center. We look forward to hearing from you!